Current version 2.5 released on 06/02/05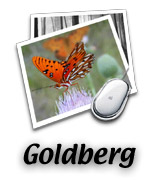 2.5 for Mac OS 8.6 and 9 with CarbonLib.
Home | About Goldberg | What's New | Compatibility and System Requirements | Known Issues | Release Notes | Download
---
About Goldberg
Goldberg is a freeware image and movie viewer with image editing capabilities and support for applying QuickTime and other effects.
Version 2.0 is a major rewrite and offers rotation capabilities, free zooming, undo support and more.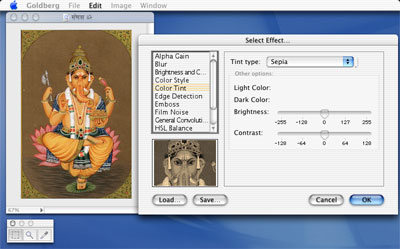 Image viewer's features
-
Support ColorSync when displaying and printing (ColorSync savvy application)
-

Read PICT, Photoshop, JPEG, JPEG 2000, TIFF, FlashPix, GIF, PNG, Targa, BMP, SGI, and PDF files
with ICC (Color Profile) and EXIF support for JPEG, TIFF and Photoshop formats

-

Save as PICT, PDF, TIFF, Photoshop, JPEG, or JPEG 2000 file
with ICC (Color Profile) and EXIF support for JPEG, TIFF and Photoshop formats

-

Export as PNG, Targa, BMP, SGI or qtif file

-

Support PICT, Movie, TIFF and PDF Clipboard formats

-

Copy to Clipboard as PICT with QuickTime compression

-
Handle large PICT image (> 4095 pixels)
-
Can open several images in the Open file window (Navigation Services window)
-

Display long file name in the window title

-

View as real or print size

-

Contextual Menu support

-

Printing

-

Tools

Selection tool, with fixed size, or fixed aspect ratios

Zoom-In & Zoom-out tools (with zoom in a given area by click and drag)
Hand tool, Hand too still available with the other tools (when CapsLock key is locked)

A tool can be chosen using its key (M:Selection (Marquee), Z:Zoom, H:Hand)

-
Editing Capabilities with Undo support

Crop the current selection
Resize image and change its resolution
with resample algorithms: Nearest Neighbor, Bi-Linear, Bicubic Spline, Bicubic B-Spline, Bicubic QuickTime, Lanczos3 and Lanczos5.
Rotation
180°, +/- 90° and arbitrary + Flip horizontally or vertically
Applying QuickTime Effects such:
Blur, Brightness & Contrast, Color Tint, Edge Detection, Emboss, HSL Balance, Sharpen, etc…
Revert to previous saved file
Movie viewer's features
-

Open and view QuickTime movie files and animated GIF files

-

Allow to copy the current selection as a PICT (to extract one image)
or a Movie (to extract a sequence)
What's New in Version 2.4
The Selection Tool (Marquee) has been enhanced: the current selection can be changed: just click inside and drag it. The current selection can still be dragged on the Desktop with the Command modifier key depressed.
A new menu Selection has been added with new commands to set the selection size or set a fixed aspect ratio, predefined or custom. Predefined aspect ratios are:
1 : 1 for square selection
3 : 2 suitable for classical photography (135 or 24x36 mm)
4 : 3 suitable for digital photography
keep the same aspect ratio as image
The aspect ratio of the selection can be inverted, e.g. 4 : 3 to 3 : 4, with the Option modifier key depressed while dragging the marquee tool at any time during the selection.
And minor changes:
the jpg file extension is used instead of jpeg
embedded thumbnails in TIFF image are used in the preview window for faster preview rendering
minor memory leaks fixed.
What's New in Version 2.5
Finally Goldberg is a ColorSync savvy application. The embedded ICC profile found in image is used when displaying or printing. A Color Settings command in Edit menu has been added to change the default behavior with ICC profile and ColorSync. The sRGB profile is automatically used as the default profile when a jpg file with an EXIF tag (image produced by a digital camera) has no embedded profile.
Compatibility and System Requirements
Mac OS
QuickTime
Mac OS 8.6
all Mac OS 9 releases
Classic Environment
QuickTime 4.x, 5.x or 6
under Mac OS 8.6
with some minor limitations
CarbonLib 1.4 or later is recommended
when QuickTime 5.0 is installed
We recommand Mac OS 9.2
with CarbonLib 1.6 and QuickTime 6.0.3
The Carbon version doesn't run under Mac OS X 10, see Goldber X 2.5 for more details.
For better performance under Mac OS 8.6 and all Mac OS 9 releases, we recommend to use the Carbon version with the latest CarbonLib version (version 1.6 or later) and QuickTime 5 or 6.
Known Issues
Under Mac OS 8.6 and 9.x
If you experience crashes while saving JPEG files under OS 9.2 with CarbonLib 1.4 and QuickTime 6, the update to CarbonLib 1.6 will resolve the problem. Thanks to Jules for reporting this incompatibility.

For some countries, except the USA, mainly European, the '+' and/or '-' characters are placed above a digit. In this case please read the next paragraph.

To use the keyboard shortcuts for Zoom-In and Zoom-Out commands (Command "+" and Command "-") press the + or - key of the keypad. The + and - keys of the main part of the keyboard doesn't work because these keyboard shortcuts are reserved by Apple as function keys also known as FKeys. (See Apple Help: "Taking pictures of your screen"). Note: Under old System Software Cmd-Shift-1 ejected the floppy disk.
Release Notes
The release notes is available here.
Download

Goldberg 2.5
CarbonLib 1.2.5 or later
Download CarbonLib 1.6
Thanks to Axel Chaminade for the French translation.
---

Version 5 or later of StuffIt Expander is required to extract Goldberg.
---
Goldberg 2.5, ©1996-2005 Opus Software. All Rights Reserved.
---